Lindsey Adelman has long been obsessed with illumination in all its forms. Her work treads the porous border between sculpture and design, taking inspiration from such diverse sources as Eva Hesse's Rope sculptures, the pattern, colors, and bodily ornamentation of the Maasai, and the films of David Lynch. Ever since the debut of the Branching Bubble chandelier, the first product made in her newly opened studio in 2006, her goal has been to transform the ephemeral nature of light into something not merely tangible but enduring. Combining organic, handwrought materials like blown glass with the strong industrial beauty of machine-milled components, her lighting systems create radiant warmth while underscoring the drama of shadows and emptiness.
Her aesthetic reflects an untraditional background. While she sketched constantly as a child, she studied literature in college and began her career working on catalog text at the Smithsonian museums. It was there, watching an artisan carve a lifelike french fry out of Styrofoam, that she first discovered industrial design and knew instantly it was her future. Within days she applied to the Rhode Island School of Design. Today, history, poetry, architecture and modernism continue to inform her designs. Her work has been shown at the Cooper Hewitt Museum, Design Miami and Milan's Nilufar Gallery.
A native New Yorker, she lives in Manhattan with her husband, Ian.
Founded in 2006, our studio's signature aesthetic was born with the release of our very first product: the Branching Bubble chandelier, a virtually limitless custom configuration that combines the idiosyncratic natural grace of blown glass with rational, machined components. Since then, we have explored the visual tension between organic and industrial forms in a number of disciplines, introducing boundary-challenging designs from an innovative palette of materials.
We design, prototype and build in-house, working with a close circle of local manufacturers to develop and produce custom parts. With more than 20 employees between the NoHo neighborhood of Manhattan and our outpost in Los Angeles, the studio is a creative laboratory with an unusual level of collaboration. Forms and ideas evolve through 1:1 model making and constant testing. Artists, craftspeople and production staff are encouraged to experiment and dream, transcending traditional boundaries and hierarchies. We feel that an energized, interdisciplinary approach is crucial to innovative design and extraordinary execution, as evident in every object we produce.
We value diversity in all of its forms. One of our fundamental goals as a company is to foster an environment within the Studio, as well as in our broader communities, in which people of different races, genders, orientations, ages, abilities, cultural backgrounds, and points of view can all see each other, acknowledge each other, connect, find commonality, and appreciate their differences. We want each person to feel comfortable in the workplace and bring their whole self to work. We care about creating a truly inclusive environment.
GLASS
All of our glass is blown in the US, primarily by master glass artist Michiko Sakano, who has worked with Lindsey for 20+ years. Michiko brings an extensive knowledge of the material and unwavering attention to detail to every piece that she crafts. She also supplies the 24-karat gold used on our glass globes and spikes, which she hand-carries from her hometown of Kanazawa, Japan.
Lindsey also frequently collaborates with Seattle-based glass sculptor Nancy Callan, who is known around the world for her innovation and mastery of complex cane and murrine techniques.
METAL
Our metal parts are individually finished by hand and every plated finish is lacquered to prevent oxidation and aging.
PORCELAIN
To create the wafer-thin, perfectly balanced scallops of porcelain, the studio works with legendary 280-year-old Munich-based porcelain company Nymphenburg, perhaps the only workshop capable of producing such delicate translucence.
CERAMICS
We produce ceramic components in-house in our New York City studio. Senior designer Kevin Quale has over two decades of experience with both wheel-throwing and hand-building.
HAMMERED BRONZE
Our hammered bronze shades and backplates are hand-forged in East Hampton, NY, using centuries-old techniques.
Drawing from an innovative palette of materials, our lights are crafted with an irrational level of collaboration in New York City with help from our long-standing network of American suppliers. They are born from countless hours of sketching and prototyping, many dirty hands, and a passion for rigorous industrial design. With proper care, they should last forever.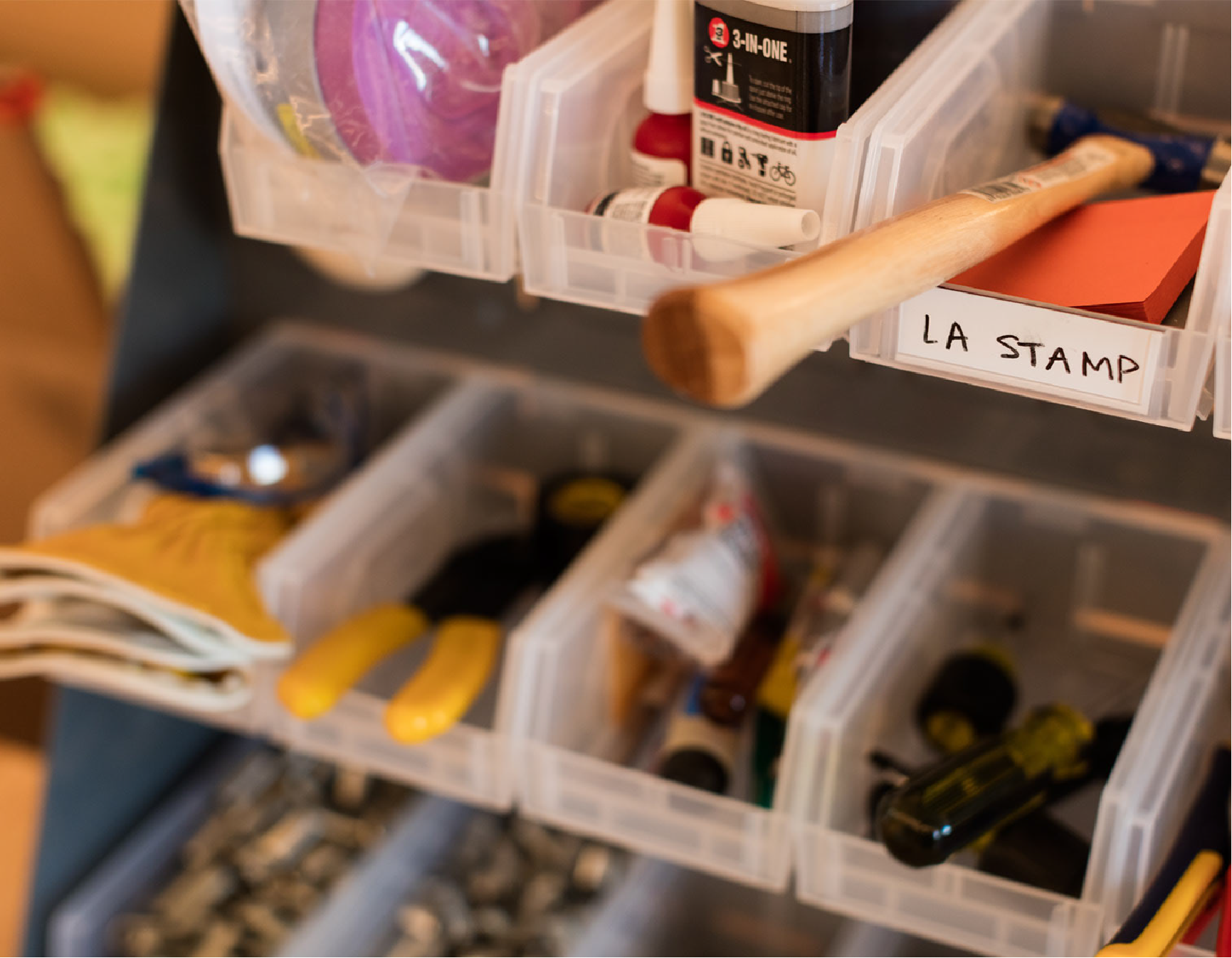 Lauren Coleman
What if you could spend a week anywhere in the world exploring an interest of your choice? This is the question that inspired our Workshop Program. Each year, we give our employees a week's paid leave and a stipend, and encourage them to broaden their horizons. The program, launched in 2013 with humble expectations, was readily embraced by our staff. Over the years, they've explored everything from scuba diving in Mexico to how to make a wooden surfboard by hand in Japan, the lost art of cob building in the U.K., bending neon in Iceland, and gold prospecting in Southern California. We find that their experiences facilitate discoveries not just for them but for the studio at large. "People come back and talk about what inspired them, what was scary, lonely, hard, or went unfinished, expectations that they had to let go of," says Lindsey. "I feel a new sense of energy from them, a fresh interest in pushing beyond boundaries."
This open-source DIY project was launched in 2009. Lindsey is deeply interested in encouraging everyone to discover the creativity within themselves. The instructions, parts maps, and link for ordering are all offered free of charge. We have held workshops and posted video tutorials to spread simple lessons in industrial design for making your own light. The community response has been astounding and we love receiving photos and notes from around the world of people constructing fixtures for themselves and their loved ones. This exercise has achieved the goal of de-mystifying Design and increasing accessibility to carry our mission to ignite contagious creativity in everybody forward into the world.
You Make It Collection
Instructional Video
Lindsey Adelman Studio provides this information solely as a guide, and cannot be held liable for any consequences whatsoever. DIY can go wrong, and it therefore must be stressed that nothing should be attempted without applying common sense, and only if you are confident in your ability to carry out the job with safety (both your own and others') and successfully. Please remember that this guide has been given to you in good faith for free, and neither its accuracy nor legality can be relied upon.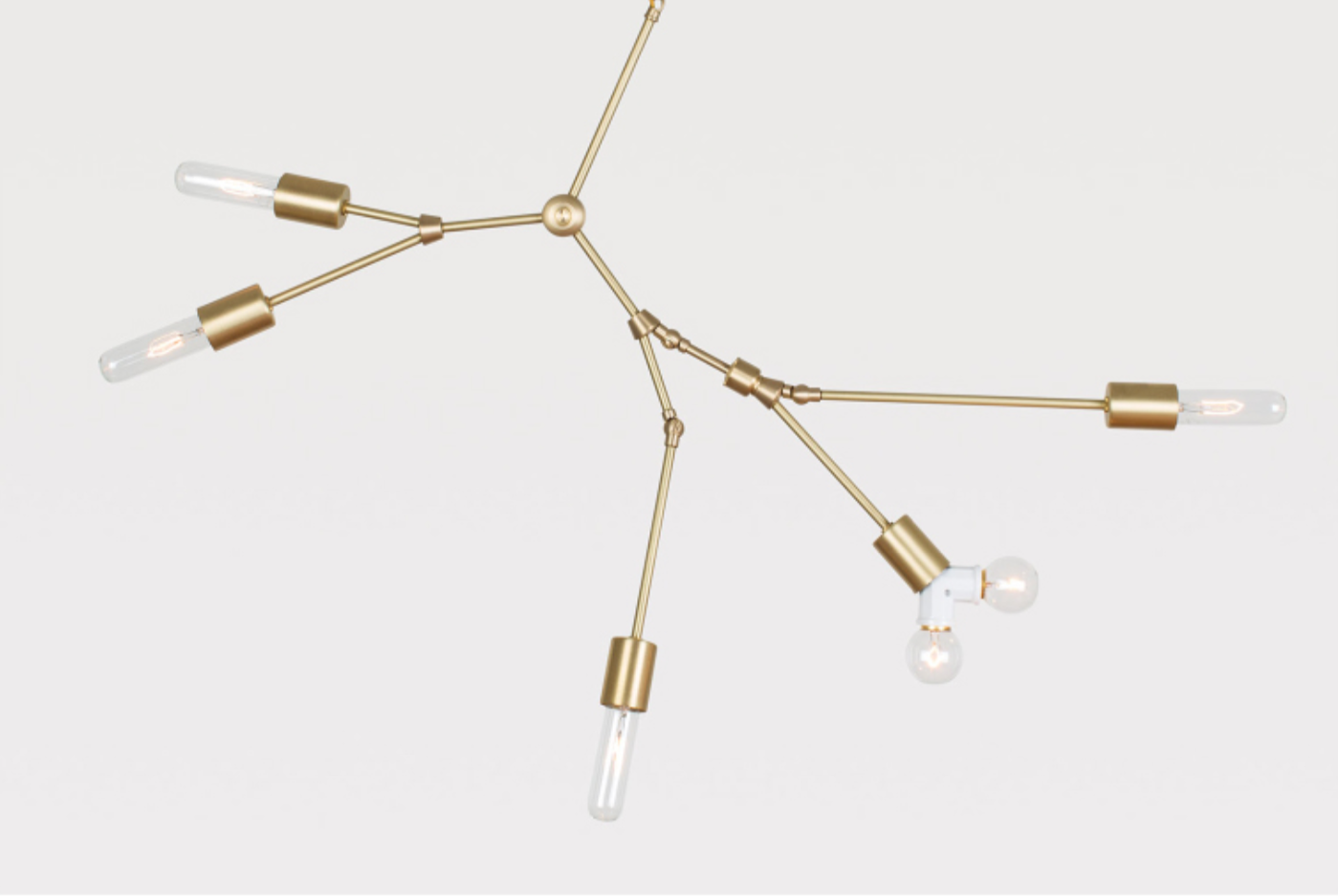 Brushed Brass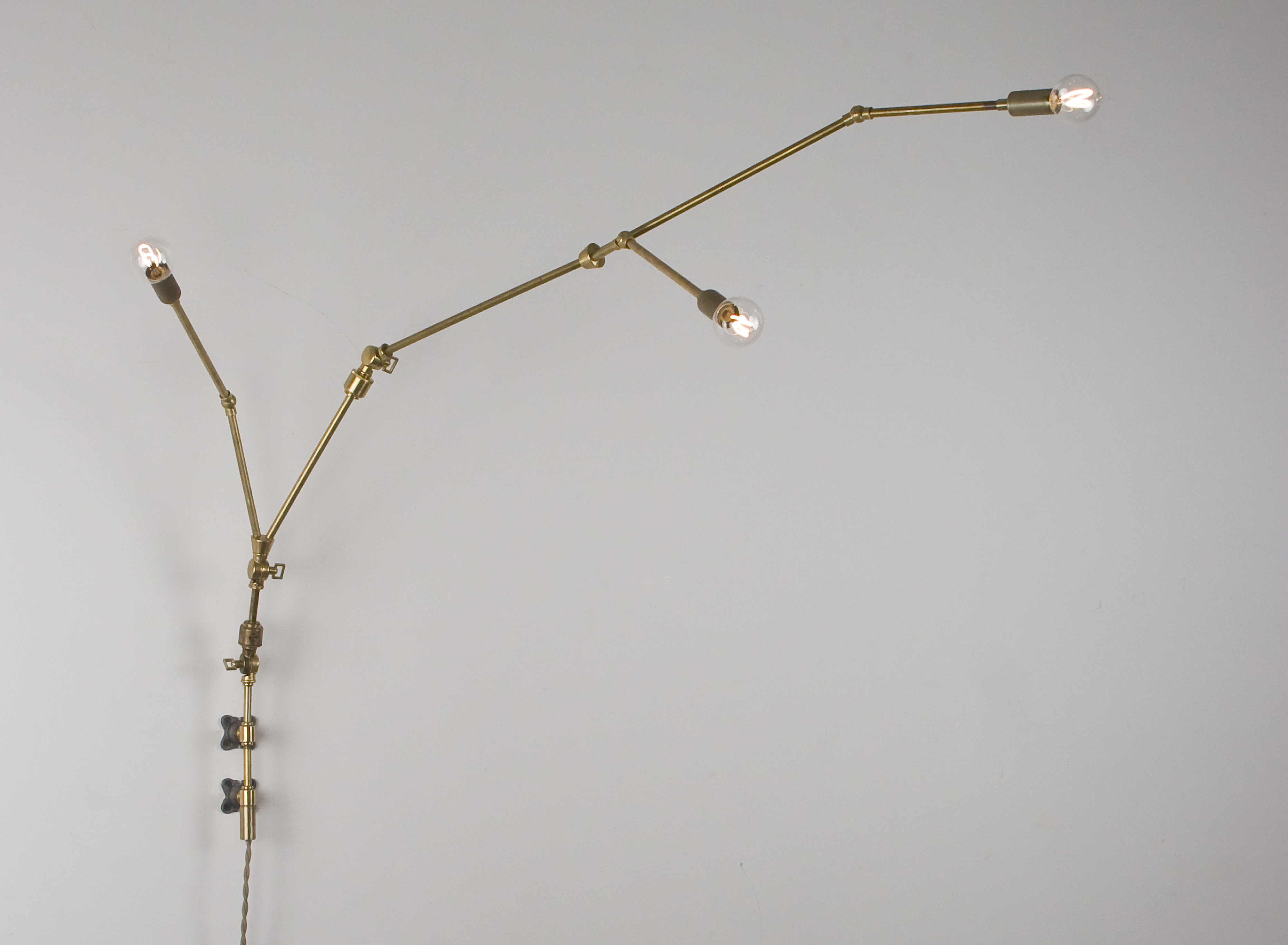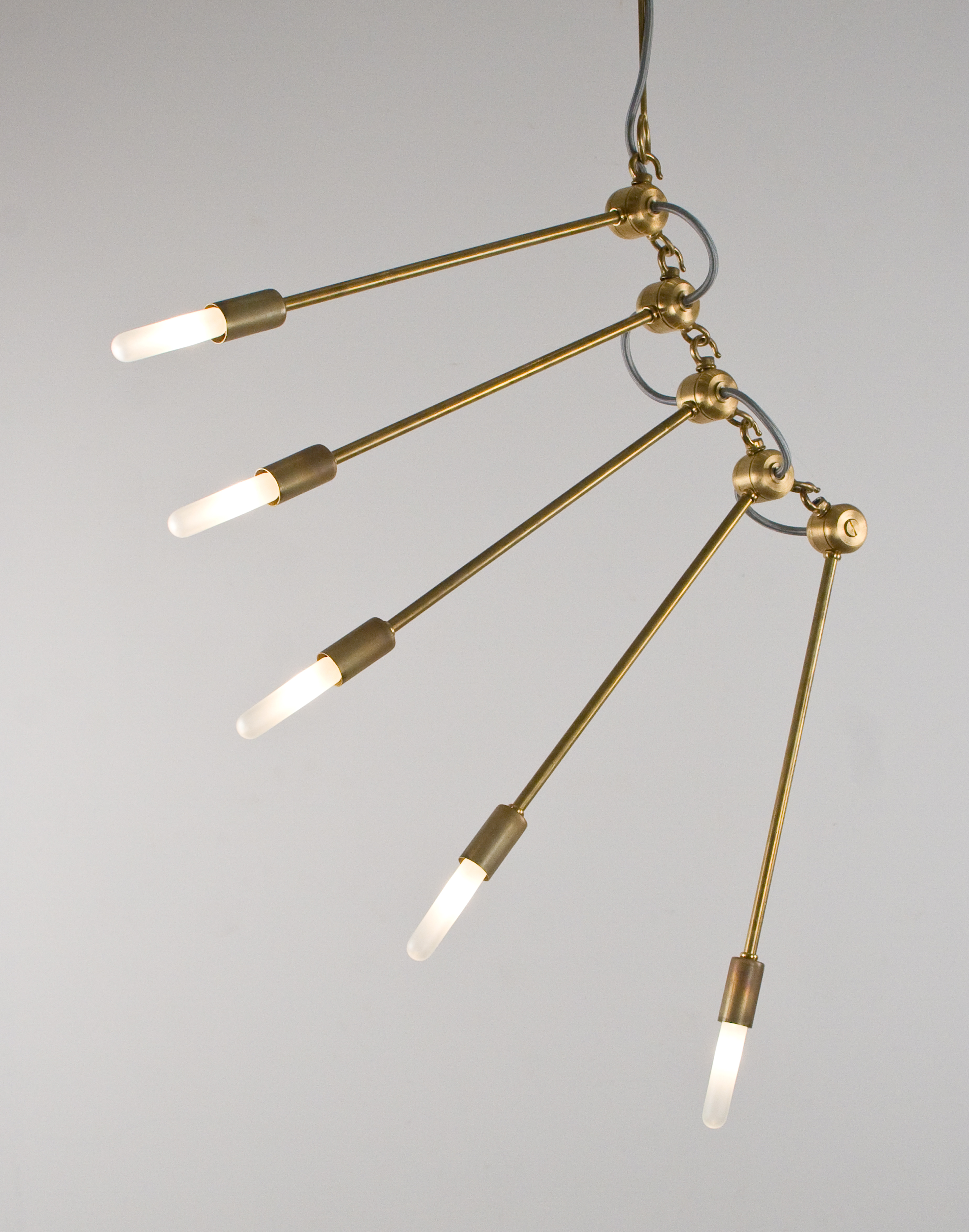 Contact us
(212) 473-2501
Email
Resources
1. How do I install your pieces?
We offer installation services with a licensed electrician in the New York area. Just let us know if you would like to schedule an appointment. We have also designed each piece to be easily installed by an electrician, so if you aren't in New York, not to worry! We provide the canopy, cross-bar, light bulbs, and a 36" or 72" stem which can be cut down on site.
The armature ships fully assembled with the joint angles set. The globes are packaged separately and screw on. THE ARMS ARE NOT ADJUSTABLE AND CANNOT BE MOVED. Please don't try to adjust the arms! It's dangerous to the internal wiring, and also we fine-tune the balance and geometry of the fixtures in our studio before shipping so that they look perfectly balanced when installed.
2. Where are your lights made?
We strongly believe in supporting local artisans and American manufacturing, so our lights are made by hand in our New York City studio. You can learn more about our process and manufacturing collaborators here.
3. Do you offer a trade discount?
We offer a 15% discount to the trade. For orders over $40,000, this increases to 20%, and over $100,000 it increases to 25%. Please contact us if you have any questions about eligibility.
4. Can I adjust the armature of my Branching fixture?
While it may appear that the armature on your fixture is adjustable, the hardware is not intended to be manipulated once the fixture is built. Not only will it throw off the balance of the piece, but it can cause serious electrical risk by pinching the cords within. The shape of the fixture is intended to be as shown in the drawing. Adjusting the hardware voids the warranty on your fixture.
5. How do I clean my light fixture?
Tips
To avoid damaging the finish, clean the fixture only when it is cool to the touch. Use something soft, like a feather duster or microfiber cloth, for the armature. For safety's sake and to protect the stability of its installation, do not spin the fixture when cleaning. The branching armatures cannot be adjusted, but the shades can be removed. If you do remove them for cleaning, mark their placement so that you can reinstall them in their intended positions.
Shades
We make each shade (including glass globes, porcelain discs, and hammered shades) by hand, an intentional process that renders your fixture unique thanks to subtle variations in size, shape, and color. If you need to replace a shade or glass, we will make our best efforts to match your originals.
Glass
Use an additive-free liquid glass cleaner. We suggest spraying the cleaner directly onto a cloth to avoid damaging and oxidizing the fixture's metal finish. Please be gentle and make sure not to put weight on the fixture.
Porcelain
A damp cloth is all you need.
Brass or Bronze
Use a microfiber cloth for brass or bronze shades. Do not use glass cleaner or abrasives of any kind on any metal surface. We recommend that tarnished metals be professionally cleaned.
Polished Metal
Clean polished metal or polished stainless with a damp cloth. Avoid commercial or heavy-duty polishes or waxes, as they can scratch or damage the finish.
Rope
Do not use water or liquids on rope. Simply vacuum gently to remove dust.
6. How do I order a custom piece?
Lindsey Adelman Studio is founded on collaboration and an openness to new ideas. If a client needs a modest alteration in order to make a fixture perfect for their space, we're happy to accommodate the request—whether it's creating a metal finish to match an element in a room or adding a custom finish to hardware. Our team is expert at accurately estimating lead time and upcharges, and can guarantee a successful install.
For those curious to embark on a creative collaboration with us, we're set up to explore far beyond the products in our collections. We can go as wild as you want, reconfiguring elements from our studio's design canon into new and distinctive forms and palettes. As you might expect, these sorts of custom projects are time-consuming, involve a lot of communication, and are accompanied by a different pricing structure and lead time. They also call for us to be agile in our design and problem-solving process. Exploring an unknown naturally means constantly pivoting and brainstorming as we evolve toward a finished product that you have helped inspire.
Email our sales team to discuss a specific project, info@lindseyadelman.com. Or call us at +1 212 473 2501
7. Where can I see your lights?
We welcome you to visit our private showrooms in New York and Los Angeles. You can book an appointment through our website here.
Our work is also represented by a select group of stockists around the world. You can see their addresses and more information on our contact page.
We also have many fixtures installed in public spaces across the globe. You can see these locations on this map.
8. How do I place an order?
To place an order, email us at info@lindseyadelman.com with your name, location, and fixture of interest and we can send over next steps. You're also welcome to call our New York showroom at (212) 473-2501 or Los Angeles at (310) 504-5200. Our Sales team will circle back within 24 hours with all the information you might need to place your order. Thank you for your support and we look forward to hearing from you!
9. Do you offer installation?
We're glad to offer installation services by our master electrician in the Tri-State area. Should you be further afield, we can quote the cost for him to come to you for larger installs, and we also have a recommended team in Los Angeles. Simply let your sales contact know that you'd like to learn more.
10. How bright are your lights?
The brightness of our pieces varies depending on the collection, the number of lights, and your glass choice, as well as the space you're working with. Please reach out to talk to one of us about your specific needs and we're happy to guide you toward the right fit! If you are after technical details like lumens, we can advise on that front as well, as our lumens per bulb vary from 100-600 depending on the collection.
11. How do I order bulbs?
Bulbs are included with each order unless otherwise noted. If you wish to order replacement bulbs down the line, send us an email with your fixture noted and we can send you a link to order directly through our bulb partners or put together a quote from our Studio, depending on your piece.
12. How do I change a bulb, or remove a globe for cleaning?
We've put together some quick videos to help should you need to change a light bulb or de-install and re-install a glass globe. For safety's sake and to protect the stability of your installed piece, do not spin the fixture during this process, and avoid putting any weight on it. If you remove multiple shades, be sure to mark their placement so that you can reinstall them in their intended positions. We also recommend wearing latex gloves to avoid leaving fingerprints.
If you have any questions, always feel free to call or email us and we can walk you through!